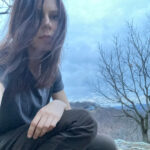 Hi! My name is Katja.
I was born in Minsk, Belarus, in 1982. From age 6 to 16 I attended the Belarusian Academy of Art lyceum, where I have received education in academical drawing and painting. In 1999 I immigrated to the United States, New York, where my art education continued at the Fashion Institute of Technology as an Illustration major.
After college and up to the present day I work as a head painter for a renowned contemporary artist. In 2016 I began carving wood. Without previous experience, it was at first a hobby which over the years, as I familiarized myself with this new material, grew into a passion as I continue to learn and aspire to become a better wood sculptor.
I see wood sculpting, drawing and painting as interconnected expressions of who I am as an artist and person. Whether is it wood, oil paint, watercolor or pencil, each material is a nuanced way for me to record, relate and express my inner world, stories and experiences.